This Italian staple has made its way all across the world and infusing itself into so many different culture. Pasta is known as a noodle made from unleavened dough of durum wheat, flower mixed with water or eggs and formed into sheets of different shapes. After that process the products are then cooked by boiling are baking. People in the past have labeled pasta as being fattening and causing people to gain excess amount of weight. Pasta is a food that should be eaten especially when you are working out. Pasta is paired with food items that have high nutrient content such as vegetables and beans. Pasta is laced with carbohydrates and provides glucose, the crucial fuel for your brain and muscles. Pasta is also low in sodium and is cholesterol free. Whole wheat pasta can give a person up to almost 25% of daily fibre that is needed in every one cup portion. So don't be afraid of pasta after all it is always listed on the balanced diet food pyramid.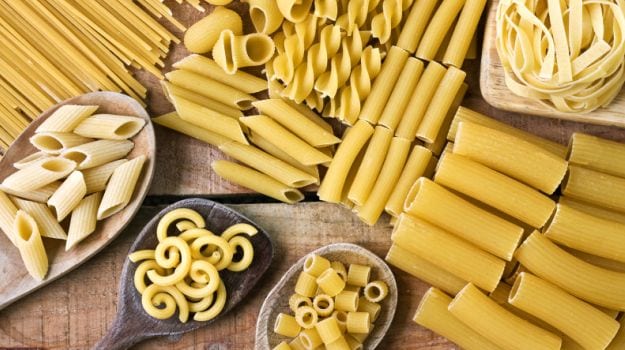 Alphabet Pasta
This is every kid's favourite meal. Not only is it super taste and nutritional, it's also educational! Parents love to add classic minestrone to spice up the meal. The minestrone gets an additional kick by adding that amazing chipotle puree to give the soup an intoxicating hunt of spice. This dish is also laced with vegetables such as greens, zucchini and celery, providing additional nutritional value to your children.
Elbow Macaroni
This shape of pasta is super versatile when it comes to the type of meal you're trying to create. This pasta can be used in soups, salads and stir fry dishes. This is America's favourite pasta because it is traditionally used to make Macaroni and Cheese. This delightful dish can be switched up drastically by adding different seasonings, adding some bacon, and EXTRA cheese.
Penne
Penne is cylinder shaped. This pasta of course much like many others originated from Italy. Penne is usually cooked and served with pasta sauces such as pesto, marinara or arrabbiata. Penne's versatility is also applicable because of the hollow centre and ridges that holds the ingredients; it is also used as a salad.
Rotini
Rotini resembles a corkscrew shape and the name comes from the 17th century word small wheels. Rotini stemmed from the northern side of Italy and is paired well with pesto, Carbonara or tomato based sauces.